Hyster Company

Hyster Company is the world's largest manufacturer and marketer of lift trucks. Our growth is the result of our commitment to building the finest lift trucks in the world. We believe we continue to succeed in doing that every day. Thousands of loyal Hyster customers reinforce that commitment each year by purchasing a Hyster lift truck, manufactured in an ISO-9002 certified manufacturing plant. For that we are always grateful.
But Hyster Company can offer you more than the world's best lift trucks. Hyster lift truck dealers can offer training for your operators, OEM-quality replacement parts at everyday low pricing, factory-trained service personnel, sound and economical fleet management of your lift truck fleet, affordable financing programs and state of the art warehouse technology to keep you more productive and so much more.
All of these services are available from your local Hyster lift truck dealership, a trained materials handling professional with on average more than 20 years in the business. Over 200 Hyster dealerships span North and South America, ready to serve you and earn your business everyday. Give him a call today for the solutions to you materials handling problems.
Why do business with Hyster Company? Materials handling is our business and our ONLY business. We don't make automobiles, toasters or microwave ovens. If your business demands the very best in materials handling, then we would be honored to be your lift truck company. We stand ready to serve you.
---
Linde

---
Toyota Industrial Equipment (TIE) is the U.S. distributor for the world's best-selling brand of forklifts. During the past 40 years, Toyota has manufactured over one million forklifts worldwide.

TIE, based in Torrance, CA, and Toyota Industrial Equipment Manufacturing (TIEM) located in Columbus, IN are an integral part of the Toyota family. As divisions of Toyota Motor Sales, U.S.A., Inc., they share the corporate commitment to an increasing presence in the United States and unparalleled customer satisfaction.
You should find our story quite riveting. After all, it revolves around you.
We're committed to meeting your material handling equipment needs. In fact, your total satisfaction is the driving force behind everything we do. From design inception to after-sale support, our entire product development cycle reflects the customer and dealer input we receive.
Total Dealer Support
Our commitment to total customer satisfaction extends nationwide, thanks to the finest dealer network in the industry.
Nearly 90 dealers in all, with over 165 locations throughout the country to serve you.
Ongoing sales, parts and service training programs help assure superior after-sale service.
Programs like "Voice of the Customer" help Toyota take customer satisfaction to new levels.
Toyota Industrial Equipment is your source for short-term and long-term rentals.
Participating dealers offer flexible lease and finance options to qualified customers through Toyota Motor Credit Corporation for added value.
Quality Manufacturing
Every Toyota internal combustion forklift is built using Toyota's unique, innovative production techniques, widely regarded as the world's most efficient manufacturing method. Through tireless efforts to continuously improve quality, we're building what we consider to be the industry's finest forklifts.
Related Site
This link will take you out of the TIE site. If you would like to visit, be sure to bookmark this page first, so you can come back to our site when you're done.
Toyota Motor Sales, U.S.A., Inc.
Learn more about Toyota cars and trucks.
---
Cranes
Hiab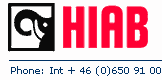 The story of HIAB starts in Hudiksvall, about 300 kilometres north of Stockholm on the Baltic coast of Sweden, in the mid 1940s. A local ski manufacturer, Eric Sundin, realised the potential of hydraulic equipment and formed the company HIAB (Hydrauliska Industri AB) together with his business partner Einar Frisk, in the summer of 1944.
Then Eric had an idea:
If there were some way of transforming the power from a truck engine into a lifting motion, a lot of time and labour could be saved.
In 1946 the first HIAB crane prototype, the HIAB 19 was ready for testing. One year later, HIAB started serial production of the HIAB 190, the world's first series produced truck-mounted hydraulic crane.
Since that time HIAB has sold and serviced over 400 000 hydraulic cranes.