HARLEY- DAVIDSON MISSION
We fulfill dreams through the experience of motorcycling,
by providing to motorcyclists and to the general public
an expanding line of motorcycles and branded products and services
in selected market segments.


SPORTSTER MODELS
XLH Sportster 883
XLH Sportster 883 Hugger
XLH Sportster 883 Custom
XLH Sportster 1200
XL 1200S Sportster 1200 Sport
XL 1200C Sportster 1200 Custom

When the Sportster® was introduced in 1957, riders didn't just get a new motorcycle. A whole new reason to ride was born. Instead of merely covering ground, here was a machine that extracted sheer, unadulterated thrills from every inch of the way. The Sportster made a habit of smoking everything on the street. And it looked the part. The lean, street-fighting style was undeniable. It still is. More than four decades later, the Sportster has the distinction of being our longest running model. Although much has changed, the thrills come through as strong as ever. The reason is simple. No other machine does a better job of getting you right to the pure heart of the sport. Open the throttle, and the surge of low-end torque packs an instant wallop. The narrow, agile frame makes riding a joy, whether the action takes you stoplight-to-stoplight or down a twisted country lane. There are now six models to choose from, plus Genuine Motor Accessories™ just for your Sportster, so it's easy to suit your ride to individual tastes. Just as long as your tastes include excitement.
---


DYNA GLIDE MODELS
FXD Dyna Super Glide
FXDX Super Glide Sport
FXDL Dyna Low Rider
FXDS-CONV Dyna Convertible
FXDWG Wide Glide

The original Dyna Glide® made its debut in 1991, and it was immediately at home anywhere there was pavement. A rider's motorcycle. At its heart was a two-point rubber mounting system that soaked up engine vibrations for as far and long as a rider cared to go. The going was very good. For 1999 it gets even better. The all-new Twin Cam 88™ engine now powers the Dyna Glide chassis. It's everything that's always been good about a Harley-Davidson® V-Twin, only more so. Eighty-eight cubic inches of go. The rest of the bike is refined as well for '99. The engine and transmission get a more rigid interface, for example. As a result the ride feels even better, especially in curves. The ignition is a new single-fire (no wasted spark) design. As always, we finish it up with a clean belt final drive. Anyone who likes to ride hard is in for a treat. Of course, sooner or later you'll also owe it to yourself to park and give your eyes a turn. The bikes in the Dyna Glide family drip with style. To complete the effect, we offer Genuine Motor Accessories™. And why stop at the surface? The internals of the new engine are beefed up to handle enhancements. Try some Screamin' Eagle® performance parts. Your local dealer will set you up with everything you need.
---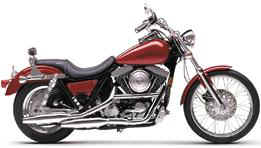 FXR™. For years it stood for more than a series of long, low road-going motorcycles. More like a genetic code. A ride that could take over your lifetime. So be forewarned. For a limited time, it's back. A few very lucky riders will once again feel the pull of an eighty-cubic-inch Evolution® engine in the vibration isolation-mounted FXR frame. Take a look. The unique handlebar set on curved risers. Custom Badlander® seat. Mini-rail backrest. Profile Low Suspension. Chrome bullet headlight. Just the sight is enough to spoil you for life at home. The grips, pegs, mirrors and flat lens turn signals are special. Even the finish is special. What isn't covered in brilliant chrome, is covered in Arresting Red or Stone Cold Blue. Colors created just for this motorcycle. The new FXR²™. Here today. Who knows where tomorrow.
FXR2 available in the U.S. only.
---