America's car industry

BUSINESS SPECIAL

General Motors

Cadillac comeback

Jan 24th 2004 | DETROIT
From The Economist print edition


Signs of recovery at the world's biggest car company

THE magic of the Cadillac of the 1950s, with its outrageous tailfins, gleaming chrome and candy-coloured bodywork, could be coming back to rescue General Motors. Against all the odds, the world's biggest manufacturing company has turned around its ailing luxury-car division with a parking lot of exciting new models that are drawing buyers away from staid Lexuses and BMWs. Plans are afoot once more to export Cadillacs to Europe, where the brand that best symbolised American four-wheel luxury lingered on long after the car itself had vanished. GM's bosses, now ensconced in the aptly named Renaissance Centre on the banks of the Detroit River, are ever more confident that they can apply the Cadillac magic to GM's mass-market brands, such as Chevrolet and Pontiac.
Rick Wagoner and Bob Lutz are enjoying the ride
Wall Street seems to agree. Stock analysts normally disdainful of Detroit as a destination for investors' money have taken to praising GM. Its shares have risen by nearly 35% since November. At their lowest, in March last year, they dipped below $30; this week they topped $55. But GM, like the other "Big Three" Detroit carmakers (Ford and Chrysler), is still embattled. It is facing growing competition from foreign brands, and it has been forced to offer discounts averaging about $3,785 per vehicle just to keep sales moving.
On January 20th, the company announced its 2003 profits. Excluding the recently sold Hughes Electronics business and some other items, profits fell by 18.6% on the previous year. Profits from car sales in North America tumbled by nearly two-thirds, to barely $1 billion, dragged down by a charge of $2.6 billion for GM's huge pension scheme. A fall in car profits overall, from $2.5 billion to $1.1 billion, was not offset by a $923m rise in profits from the group's financial businesses. So, apart from the renewed gleam from Cadillac, what is driving up the share price?
There are obvious external factors, such as the recovering economy in America, where car sales are set to rise from 16.7m vehicles last year to 17.3m this year, according to GM's own forecast. The share prices of car firms tend to recover smartly, outperforming equity markets early in any economic recovery. Yet GM's fourth-quarter results, also published on January 20th, showed a worrying fall in net profits compared with the same quarter in the previous year. The good news is that, at $674m ($1.41 per share), earnings exceeded analysts' expectations (of only $1.22).
This could prove to be the year when GM's core business of making cars comes in from the cold. Some analysts see car profits doubling to $2 billion, and this week John Devine, GM's chief financial officer, forecast that the group's net earnings per share would rise by 24% (to $1.75) in the first quarter. Earlier this month, GM's chairman, Rick Wagoner, said he hopes that profits from cars in North America will recover to $1.4 billion this year, with the European business breaking even and the losses in South America narrowing. At the star performer—GM's car business in the Asia-Pacific region, where net profits tripled last year to $577m—they are expected to rise by some 40% this year, thanks largely to GM's strong position in China.
Mr Wagoner dismisses fears that China will turn out to be a large-scale version of the Brazilian market, which collapsed in 1997 just as the global car industry decided to set up camp there. "China is not another Brazil," he says. "If new capacity there is not fully used in year one it will be used in year three. And there's scope for consolidation, to take stakes in some of the 200 small carmakers that have a third of the market."
What is really grabbing the attention of the analysts is the fact that GM is making progress across a broad front. Financially, it is easing the burden of its pension liabilities and making moves to staunch the inflation of health-care costs; it has plenty of new products in the pipeline; it is catching up on Japanese standards in terms of both productivity and quality; and morale has picked up, helped by the remarkable recovery of the flagship Cadillac brand. This has "stopped the slide and gained momentum," says Mark LaNeve, the division's general manager. That opinion is echoed even by Steve Girsky, an industry analyst at Morgan Stanley and a long-time critic of the company.
Until new designs were launched four years ago, Cadillac had been in steady decline. Now GM's North American boss, Gary Cowger, gleefully points out that the luxury division's sales are back up to 216,000, a level not seen since 1996—before European and Japanese rivals grabbed GM's market share. The company now plans to apply the same formula to turn around its mass-market brands, such as Chevrolet and Pontiac. One key weapon, according to Larry Burns, who runs GM's R&D, is shorter lead times for new products—which have come down by 50% (to 25 months) since the late 1990s.
"What's good for General Motors is good for the country," famously said the company's president almost 50 years ago. But what was good for America in the 1990s was not good for GM. In 1992 the company was minutes away from declaring bankruptcy, and it spent the next ten years in a grinding struggle to pull back from the brink. A disastrous strike in 1998, which cost GM $2 billion in lost profits, seemed to set the seal on its demise.
But Jack Smith, who became chief executive and then chairman in the firm's darkest hour in the early 1990s, patiently set about establishing the means for GM's recovery. He built a youngish executive team around his protégé Mr Wagoner, who succeeded him as chairman last May. Mr Wagoner duly brought in Bob Lutz, a 70-year-old industry veteran with a glittering career at Ford, Chrysler and BMW, in both America and Europe, to shake things up.
The result has been an overhaul of its cautious, cumbersome committee-style management. Decisions on everything from new designs and new products to plant closures are now taken rapidly and efficiently. There is a feeling of confidence around, so much so that Mr Wagoner is forecasting an increase in overall earnings in 2004, with the target of a further 40% rise by "the middle of the decade".
Yet this time last year GM's future still looked grim. Its pensions and health-care burden appeared oppressive for an organisation with 2.4 retired workers for every current employee. The deal to sell Hughes Electronics was being blocked by federal regulators, depriving GM of the cash it sorely needed. The prospect of difficult negotiations on pay and other benefits with the United Auto Workers (UAW) union was looming, and European and Japanese competitors were driving straight into the last redoubt of Detroit's Big Three automotive firms—the high-margin sport-utility vehicles (SUVs) and pick-ups, the only part of the market where they made profits.
Even today all is not yet rosy for GM. It faces increasing competition across the board from the Japanese, South Koreans and Europeans, in both cars and light trucks. And some of the turnaround due this year is down to financial engineering rather than the old-fashioned sort of engineering more usually associated with car companies.
Thanks to a peculiarity in America's accounting rules, GM's solution to its most public financial problem—a massive shortfall in its pension fund, amounting to $19.3 billion at the end of 2002—will enable the firm to increase its profits. GM filled the gaping hole last year by contributing $18.5 billion to the fund, most of it raised on the bond markets. In the unreal world of American pension-accounting, firms are allowed to assume a flattering rate of return on their pension-scheme assets. And the expected (rather than the actual) return is recorded as income in the profit and loss account. As GM's expected rate of return of 9% is higher than the rate of interest on its bonds, its nifty piece of balance-sheet management—replacing unfunded pension liabilities with long-term financial debt—will increase its profits by around $500m in 2004.
And yet something more profound than clever financial shuffling has been occurring at GM. This was obvious at this year's North American International Auto Show in Detroit earlier this month. Over the past decade, the show has provided a ringside seat to watch Motown's steady evolution, as it virtually abandoned passenger cars to foreign rivals in favour of big (and highly profitable) trucks. But at this year's show it was Japan's three biggest carmakers that rolled out the pick-ups and SUVs, while in the far corner of the sprawling auditorium the centrepiece of GM's stand was a trio of small cars: the Pontiac Solstice roadster, the Saturn Curve and the Chevrolet Nomad. The three looked distinctly out of place alongside the likes of the massive Chevrolet Suburban and Cadillac Escalade SUVs. Yet they are clear signs that GM has finally decided that the biggest risk of all is not to take any risk.
It has been conventional wisdom to compare GM to a supertanker, and a listing one at that. Long the biggest competitor, it nevertheless seemed oblivious to the global forces reshaping the industry. Its ageing product line lacked excitement and its market share crumbled. So when the Solstice first appeared as a "concept car" at the Detroit show in January 2002, it created plenty of buzz. The little two-seater was small, sleek and sporty, the last thing anyone expected from GM, where consensus generally overruled flair.
Solstice had even taken Mr Lutz by surprise when he had first seen the prototype a month before the 2002 show. But it was precisely what he was looking for, and he was determined that it should not get stuck in a warehouse with all the other examples of grand designs that never got built. Solstice had to be put into production.
A decade ago, that would not have happened. Even the GM of 1999 would have abandoned the project in a hurry, or delivered a production vehicle that had little in common with the concept. An intricate network of autonomous designers and no fewer than ten engineering centres conspired to stretch out the product-development process to four, five and even six years. An industry rule of thumb suggests that a million dollars should be added to the cost of a project for each extra day it spends in development.
Solstice shows a very different system is at work inside GM, one where the North American engineering operations have been consolidated into a single entity housed in a grand new tower at the General Motors Technical Centre in suburban Detroit. The marketing managers, who blithely tinker with designs to reflect the results of their latest consumer clinics, were kept at a distance while the production version of the Solstice was being prepared. They were not allowed to second-guess Ed Welburn, GM's new design director. And with his booming voice and macho presence, Mr Lutz made it clear that the Solstice would look and drive as much as possible like the original concept car—but it would also stick to the original target, a starting price of under $20,000.
Motoring journalists will have to wait until later this year to test the car's road manners. But the vehicle that reappeared in Detroit this January suggests GM is comfortably adapting to a new era of disciplined management.
Since it launched its patriotically themed "Keep America Rolling" campaign in the weeks after 9/11, GM has shelled out billions in the form of rebates, low-interest loans and other incentives to lure buyers into its showrooms. And even then, the company could not quite reach its target market share of 29%. At its peak, the Chevrolet division alone held nearly that much of the American market. In the early 1960s, GM as a whole built more than one out of every two cars sold in the country.
But in the days when GM ruled the road there were only 30 car models around, half of them made by GM. Today there are no fewer than 600 different models on the market, says Mark Hogan, a GM product-development manager. He points out that car companies today can no longer count on huge production runs (like those of the legendary Chevrolet Impala, which rolled out half a million examples a year).
So GM has had to reinvent itself to cope with a market that has not merely been segmented but turned into an ever-changing kaleidoscope, in which a successful single model sells around 300,000 vehicles. The trick is to make different models using the same underpinnings of parts unseen by the consumer. Japanese producers and Volkswagen in Europe have long been expert at this, and GM has at last got the message. It now has five such "platforms" or "vehicle architectures" on which to build different models for local markets.
It has also done more basic factory-level improvements in order to cut costs. According to the Harbour Report, the industry's reference for productivity numbers, GM has been steadily closing the gap with its Japanese rivals. Harbour says the carmaker managed a 7.4% improvement in assembly-plant productivity in 2002, part of a steady pattern that has seen its efficiency rise by 22% over five years. It is "on the heels of some of the best," says Ron Harbour, the firm's president, which is all the more notable since the company was long the Harbour Report's productivity laggard. The laggards now are Ford and Chrysler, and that is allowing GM to take control of the discounting game.
Things should get even better from now on, thanks to a helping hand from the UAW. Union and management spent years locked in a danse macabre, seemingly committed to mutual destruction. But they were both shocked by the costly six-week strike in 1998, and after it both sides were determined to change.
One instrument of change was Mr Cowger, who was brought back from Europe because he knew how to get along with organised labour. Contract talks last summer were stunningly civil. Although GM did not get the relief it sought from surging health-care costs, the union offered plenty of other concessions that will keep productivity rising and overall labour costs in check.
That will make it easier for GM to implement the grand global-manufacturing strategy that it has begun to put in place in some of its newest overseas facilities, in cities such as Gliwice and Shanghai. Its $10,000 entry-level small cars designed to get college students hooked on GM products will actually be made by Daewoo and imported to America to be sold with a Chevrolet badge.
Under Mr Wagoner and his predecessor, Mr Smith, GM has taken stakes in a number of foreign carmakers such as Daewoo, Fiat, Fuji (the maker of the Subaru) and Suzuki. These links are producing a wider range of technology and product design, and they have allowed GM to zoom ahead in the Asia-Pacific region, a trick it is hoping to repeat in Europe by sharing parts such as engines and gearboxes with Fiat. Though the latter's troubles may stop GM from increasing its 10% stake in the Italian company, Mr Devine is convinced that the co-operation, leading soon to a shared basic design for a small car, is paying off. Between them, the companies in this global confederation account for 25% of the 60m cars that will be sold in the world this year. "We're learning how to use size as a competitive advantage," says Mr Wagoner.
Productivity is just one measure of what comes out of a factory, though. Quality, stresses David Cole, chairman of Ann Arbor's Centre for Automotive Research in Michigan, "is just the price of admission". In car-savvy America, where consumers can call up any conceivable statistic on the internet, even the most minor defects are unacceptable. These days, Cadillac's biggest Asian competitor, the Lexus, has less than one flaw for every two vehicles. But its parent company, Toyota, has suffered some unexpected declines in its quality, according to the latest Initial Quality Survey from J. D. Power and Associates, a benchmarker for the industry.
Morgan Stanley's Mr Girsky believes this provides the Motor City's manufacturers with some real opportunities. But customer perceptions lag improvements in quality. Getting the message across won't be easy. One cute marketing trick is to offer free 24-hour test drives. So far 500,000 of these have produced 170,000 sales, according to Mr Cowger.
It took 20 years for Detroit's reputation to sink to its lowest point. GM is hoping that it will take a lot less time to regain the glitz and glamour of its good old days.
---
---
America's motor industry

The year of the car

Dec 30th 2003 | DETROIT
From The Economist print edition


Detroit's Big Three are serious about making cars again

JIM PADILLA, president of Ford's North American operations, wants 2004 to be "the year of the car". When the Detroit motor show opens on January 4th, Ford will roll out an array of new passenger cars, such as the 500 to replace its ageing Taurus. Not for years has Ford put so much emphasis on saloons rather than on the pick-ups, sport-utility vehicles and minivans in the light-truck segment that dominates American sales. It is not alone. Amongst Chrysler's new cars is the 300C, its first rear-wheel-drive saloon in more than 20 years, and the Magnum, its first estate car since 1984. At General Motors (GM), it is much the same story.
This may seem odd. The booming light-truck segment accounts for over half the sales of America's Big Three carmakers; for Chrysler it is two-thirds. For the past decade this part of the market has provided all Detroit's profits, while cars have lost money, outclassed by Japanese rivals. So why shift resources? Because, as David Cole, chairman of the Centre for Automotive Research, in Ann Arbor, Michigan, puts it, "there is no sanctuary any more".
Over the past 20 years the American market has split. The Japanese have dominated cars with good, economical models, while the retreating Big Three concentrated on the light-truck segment. But now the Japanese are advancing on Detroit's last redoubt. Toyota offers more sport-utility models than Ford, while Nissan could do well with its first big pick-up, the Titan. Even Ford's new version of its F-150 truck (America's best-selling vehicle) is being sold at discounts of up to $1,000.
To survive, Detroit's manufacturers have to retaliate on all fronts. This means improving their car ranges: upgrading them from basic, boring vehicles, bought mostly by rental companies at knock-down prices, to attractive models that can be sold profitably. Over the past two years, American carmakers have tried to stem their loss of market share with discounts. This worked, at least in keeping overall sales buoyant. Throughout America's economic slowdown, sales remained at about 90% of their peak.
Detroit officials, such as John Devine, GM's chief financial officer, insist that the discounts are money well-spent, largely because carmakers do not have much scope for saving money by reducing output and so costs. Restrictive union deals with the Big Three have limited lay-offs. With American car firms struggling, that is beginning to change. Following last summer's deal with the United Auto Workers Union (UAW), the Detroit carmakers will close at least six assembly and component plants and sell off other operations. Faced with a bleak assessment of the future, the union agreed to try to narrow the productivity gap with the mostly non-union factories opened in America's southern states by European and Japanese manufacturers. Such factories will soon have the capacity to produce more than 25% of the vehicles sold in North America. However, the UAW refused to budge on health care, now one of the biggest single items in the cost of a Detroit car. That led Ford's chairman, Bill Ford, to call for a national health-care programme.
On top of the health-care costs there are the carmakers' huge unfunded pensions. After 20 years of shedding workers, the Big Three now have far more retirees than active employees. At GM, the ratio is 2.4:1. At the start of 2003, the stockmarket downturn left the company with a pension-fund deficit of $19.3 billion. Many observers feared that GM would have to scrub new-product plans to raise cash. However, the company (unexpectedly) almost closed the gap by the end of 2003, helped by a successful bond issue and the pending sale of its DirecTV business. GM's pension expenses are expected to fall by at least $1 billion this year.
Nonetheless, the months to come will be hard—especially for Ford and Chrysler, both struggling to keep turnaround plans on track. Tough selling conditions "went far beyond our expectations", concedes Chrysler's chief executive, Dieter Zetsche. Both manufacturers desperately need a reprieve from price-cutting, although GM seems unlikely to co-operate.
Both companies hope to draw customers with new products, rather than with discounts. Ford is setting sales records with its updated F-150, but Chrysler is finding success more elusive. Critics contend that this reflects poorly on Mr Zetsche's plan to move the company upmarket. It seemed a sound strategy on paper as the firm's commodity brands—Chrysler, Dodge and Jeep—are caught up in the discounting wars. But buyers largely rejected the fancy $40,000 versions of Chrysler's new Pacifica. Sales only began to take off when the company switched to lower-priced versions—and gave bigger discounts.
Ford and GM emerged from 2003 in slightly better shape than many sceptics expected. Ford, for instance, had by the last quarter, turned its European and Latin American businesses into profit again, and was making money for the first time at its Premier Automotive Group (containing brands such as Jaguar and Land Rover) as well as in its burgeoning East Asian business. Its underlying 2003 profits will exceed initial expectations.
But now that the Japanese, South Koreans and Germans have unleashed an assault on the light-truck market, Detroit has to respond aggressively. Do the Big Three have what it takes to fight back this time? Their new cars must win customers and do so profitably. This looks like the only way Detroit can stay on the road.
---
Dec 30th 2003
From Economist.com
Cars account for more than 5% of America's GDP and, directly or indirectly, one in seven of its jobs. Manufacturing is dominated by the Detroit-based Big Three: General Motors, Ford and Chrysler. In the 1990s these companies began producing a wider range of vehicles and took to "mass customisation".
Yet despite roaring sales, things have gone badly awry in Detroit. Incentives for car-buyers kept sales high throughout America's economic slowdown. But its car industry has one-fifth more capacity than it needs, and restrictive union deals have limited much-needed downsizing. A deal of sorts was struck with the United Auto Workers union in September 2003, but the Big Three must still narrow the productivity gap with non-union assembly lines established in Southern states by Japanese and European competitors. These firms have eaten into the Big Three's market-share, with Toyota poised to replace Chrysler in the triumvirate in 2002. Though the Big Three are fighting back on all fronts, Ford, which celebrated its 100th anniversary in 2003, could be the first to go bust.
---
Wave goodbye to the family car

Jan 11th 2001 | DETROIT
From The Economist print edition

Motown is slamming on the brakes as a slowing American economy affects sales and the battle shifts to producing a wider variety of vehicles

LOOK around the car park; almost any car park. The once ubiquitous family car is becoming lost in a sea of other vehicles of all shapes and sizes. There are big and small four-wheel-drives and the like, collectively known as sport-utility vehicles (SUVs); there are minivans—or "people carriers"; there are pick-up trucks; there are boxy urban-utility vehicles; there are micro city cars; and there are sports cars of every dimension. All the big car makers have been racing to produce such offerings, because demand for them has grown and their profit margins are more generous. At the North American International Auto Show in Detroit this week, it was the new SUVs, minivans and pick-ups that carried the car makers' hopes for the future.
This change in the car business took hold gradually throughout the 1990s, most strongly in America, the world's biggest car market. Last year a record 17.4m cars and light trucks (a category which, in America, includes pick-ups, SUVs and other car mutants) were sold. But from being a relatively small and specialised part of the market, the variants have increased in popularity so much that sales of light trucks in America are now almost as big as sales of cars (see chart).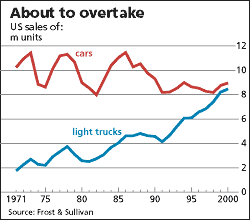 Many of these different sorts of vehicle have been hugely profitable for manufacturers, which have at times been unable to keep up with demand. Indeed, industry analysts reckon that whatever money General Motors (GM), Ford and Chrysler made last year came mostly from their light trucks. This helped to subsidise overseas losses, and to cushion Chrysler's enormous domestic losses. If Detroit's "Big Three" had relied on cars, they would be in deep trouble: many traditional American family cars now sit around on car lots until big discounts tempt buyers. A similar story is beginning in much of Europe and the rest of the world.
Yet despite the growing market for light trucks, GM, Ford and Chrysler all lost market share in 2000 to European, Japanese and South Korean producers. The overseas competitors are churning out a blistering array of SUVs, minivans and pick-ups, not only for export to the United States, but also from their factories based there—which are often newer and more efficient than those run by the Detroit trio.
And now the American economic slowdown, or even possible recession, is starting to bite. The car industry is always one of the first to suffer. Autopolis, an industry research firm, reckons that, thanks to the gloomier economic outlook, car and light-truck sales in America could decline by as much as 20% over the next three years—and the fall could be even worse. With more offerings in the light-truck sector, profit margins seem sure to decline. Financial analysts have been swiftly downgrading their estimates of car makers' future profits.
The industry has not faced such a downturn, with the inevitable rounds of plant closures and lay-offs, since the early 1990s. Analysts such as Jay Ferron at PricewaterhouseCoopers worry that some factories, once closed, may never reopen. The prospect seems gloomiest at Chrysler. DaimlerChrysler, the German group that now owns America's third-largest car maker, has sent a new team of executives led by Dieter Zetsche to try to restore Chrysler to health. It is in a precarious position: the company lost $500m in the third quarter, and its losses are expected to more than double in the fourth quarter. Many of the firm's troubles are caused by mistakes in the light-truck sector. Mr Zetsche intends to unveil a turnaround plan in late February, but his team is already demanding that suppliers slash their prices.
In previous economic downturns, the weakest companies and factories have soon found themselves in trouble. During the oil crisis of the 1970s, Detroit was forced to "downsize" its models to compete with more fuel-efficient imports. As the Japanese producers set up car plants in America and Europe, the battleground shifted to building cars that were more reliable and had fewer defects; it then moved on to manufacturing vehicles on "lean" production lines. Factories shaped up, packed up or were taken over. What counts now is the flexibility to make different sorts of vehicle, especially on the same production line. Many of the SUV-type vehicles share parts with cars.
What this means is that operations which rely mostly on making ordinary cars are now especially vulnerable. In England, for instance, Ford is closing its car factory at Dagenham, and GM is ending production at Luton, plants that have specialised in building mid-sized cars. GM's own figures show that the market for such cars has shrunk by 20% across Europe in the past five years. In the United States, GM is even phasing out its Oldsmobile division, famous as the builder of "cars your father used to drive".
That product varieties will continue to proliferate was clear at the Detroit show, where nearly 60 "concept" and production vehicles made their debut. In SUVs alone, there will soon be 70 models on the market, according to AutoPacific, another industry consultancy. All-new products such as Nissan's monster pick-up (see article), GM Pontiac's Vibe, BMW's Mini Cooper, and Chrysler's Jeep Liberty, are slicing and dicing the market into ever smaller segments. In the 1960s, GM could reckon on its bestselling car racking up sales of 1m or more a year. Today, it would be lucky if its top-selling passenger car managed 300,000 units.
This market fragmentation changes the industry's economics. Because it is more expensive to produce and market a number of small-volume vehicles rather than one big seller, car manufacturers have to adopt a variety of cost-cutting strategies to survive. One approach is the so-called "platform" strategy, in which common components are shared wherever possible between different models. Hence, under their skins, the cars from three of Ford's brands, the Jaguar S-Type, the Lincoln LS and the new Ford Thunderbird, have numerous parts in common. The key, stresses Ford's chief executive, Jac Nasser, is to ensure that the parts that differentiate one vehicle from another in the buyer's mind remain unique.
As part of his turnaround plan, Chrysler's Mr Zetsche will also import more flexible manufacturing, so that numerous models can roll down Chrysler's assembly lines. A big advantage will be that when demand for one product slows, production of a more popular vehicle can be ramped up. Toyota is reckoned by the industry to be the master of flexibility (as it was of lean production).
This is not to say that ordinary cars are going to disappear altogether. The challenge is to make them more interesting. To achieve that, some producers are going "retro". A number of cars which borrow styles from decades ago appeared at the Detroit show. Ford's new Thunderbird and even America's car of the year, Chrysler's PT Cruiser, have the look of a 1950s hot-rod about them. The PT Cruiser was one of the few bright spots for Chrysler, which some analysts think could eventually be replaced by Toyota as America's third-biggest car company.
---
Mass customisation

A long march

Jul 12th 2001 | SOLIHULL, ENGLAND, AND NEWTON, IOWA
From The Economist print edition

For years "mass customisation" has been the holy grail of manufacturing, building to meet customers' individual orders rather than for stock. Progress is proving slow, but the journey is illuminating

HENRY FORD launched mass production 88 years ago with his revolutionary assembly line for the Model T car. It proved a brilliant system—at least, for as long as there were customers waiting at the end of the line to drive Ford's cars away. But it lost some of its shine when customers became harder to find, meaning that mass-produced cars sat expensively in parking lots and showrooms. Now a new dream is at hand: to turn mass production on its head with the help of flexible systems and Internet ordering. The goal is to deliver precisely the car that a customer wants, as and when he wants it: goodbye inventory, hello "mass customisation".
As with cars, so with washing-machines, refrigerators, window-frames, packaging equipment and even collectable dolls. All sorts of companies are discovering that, if they make their factories lean and flexible, they can run their businesses differently, freeing idle capital that has been tied up in stocks of parts and finished products. The Internet has provided a handy means of linking up supply chains, in real time, in order to put this revolution into effect.
Mass customisation—the selling of highly individual products but on a mass scale—is a logical next step in the progress of BTO ("build-to-order"), the manufacturing of goods only as and when there is an order from a customer. Companies such as Dell Computer and Renault already make extensive use of BTO systems, shortening delivery times and trimming work-in-progress. In essence, they are taking the lean manufacturing techniques that western firms have spent the past 15 years copying from Toyota in Japan, and extending them throughout their "value chain", both upstream and downstream of the factory. And that means turning a production-push industry into a demand-pull one.
The chairman of Renault, Louis Schweitzer, has declared that Renault's ambition is to build and deliver a car ordered by a customer within 15 days. "It is the dream we are all running after," says Roberto Testore, the chief executive of his Italian rival, Fiat Auto, "but it is difficult to bring to reality."
The prize to be won in the form of lower supply-chain costs is enormous. A recent study by a group of consultants at McKinsey* put a figure on the amount that is lost by producing cars to meet a demand that never materialises. Eliminating such losses (and the associated discounts needed to sell off excessive stocks of finished cars) could, according to McKinsey, be worth up to $80 billion a year to the car manufacturers. Nissan Motor has estimated that converting entirely to BTO could save up to $3,600 per vehicle. Nevertheless, despite some concerted efforts, notably among car makers in Europe, the goal of the "three-day car" (as one research project dubs BTO vehicles) could still be ten years distant.
Ever since Henry Ford battled with Alfred Sloan's General Motors for leadership of the car industry in America in the 1920s, the watchword in Detroit has been "move the metal". Models would be mass produced in batches of different colours, or with different trims and options, based on the best guesses of the marketing department as to how many of each variant could be sold. Big car manufacturers became adept at leaning on dealers to absorb vehicles (even offering them up to 30 days' free credit) and encouraging them to sell below list price if they were overstocked.
No industry epitomises the traditionally gaping gulf between producer and consumer quite as clearly as the car industry. The tensions in a car showroom—between the salesman who wants to sell what he has in stock and the customer who wants to buy what he has in mind—make buying a car one of the least enjoyable of all consumer experiences.
The salesman for a dealership in mass-market cars has to make some three sales a week to earn his wages. But dealerships are not thronged like food stores. So when somebody actually comes through the door, the salesman is desperate to close a deal, even if he does not have the version of the car that the customer is actually looking for.
The mass-customisation zealots think that all this can be changed, creating a world in which consumer satisfaction and producer profits rise steeply together, as systems become more agile and faster. Everybody looks at how Michael Dell dethroned Compaq, the PC-industry leader, with the simple business model of direct sales over the telephone and the Internet. The Dell customer specifies what features he wants on his PC and pays upfront by credit card. The machine is then assembled and dispatched, usually arriving within three days.
Yet the real secret of how Dell Computer manages this trick lies in the way that it restricts its computers to several key modules, and stocks a variety of each, allowing a wide choice of customer specification. In fact, Dell PCs can be put together in about four minutes flat, with a further 90 minutes needed to load up the software. Most of the customisation comes from the software that is chosen.
The essence of BTO production is to have standard pre-assembly of such modules, which are then configured at a late stage in the manufacturing process. Dell has to be sure that suppliers can respond quickly and furnish the necessary quantities of the modules that are in demand. Leaving the customised bits to the end of the assembly process helps to reap some of the benefits of mass production while offering individual specification and rapid delivery to a "customer of one". This formula, the antithesis of the mass market, has allowed Dell to grow by 40% a year in recent years, even as the PC industry as a whole has been growing by only 15-20%. Last year, Dell replaced Compaq as the world's biggest PC maker.
Computers are not the only consumer product for which lead times to delivery have shrunk. Photographic development is another, going from five days to one, or even to one hour for premium services in which the job is done in special mini-labs rather than in the big photo-processing factories of yore. Another is spectacles: some retailers can now deliver individually tailored lenses within an hour.
In these cases, the key enabling development has been the arrival of production methods that allow manufacturing to be farmed out to small, local sites—ie, the shops themselves. Some lean-production experts, such as Anand Sharma, the founder of TBM Consulting in North Carolina, think that one consequence of building to order rather than for stock will eventually be a change in the geography of traditional manufacturing. Mr Sharma foresees the rise of "distributed manufacturing" with, for instance, fewer giant plants and more small ones assembling from pre-fabricated modules closer to the end-user.
There has been a big change within the car industry in the way that orders are handled. According to some recent studies, around 19% of cars ordered in Europe are custom-made, compared with barely 7% in America. But the proportion that are built-to-order (though not necessarily customised) in some countries is a lot higher: in Germany, some 60% of cars are now built in response to customer orders placed directly or indirectly with the factory. A study in Britain shows that BTO cars rose from 10% of the total nine years ago to 32% in 1999 (see chart).
Some 40 car companies and parts makers have set up a forum called the International Car Distribution Programme (ICDP) to look into ways to streamline the distribution and sale of cars. Based near Birmingham, England, ICDP brings together businessmen and academics from across Europe to plot exactly what goes on in this area, to study consumer reactions and to find ways of improving performance. The aim is to find out how to supply and please more customers at lower cost.
This has led to an associated study involving such car makers as Volkswagen, Ford, General Motors, Nissan, Honda and Peugeot. Known as the "3DayCar" project, this explicitly sets out to see if the Dell Computer model can be applied to car making. The team working on it is a mixture of economists, distribution experts from other industries and former car-company managers who know how traditional car distribution works.
The project director, John Whiteman, points out that most consumers who order a customised car are used to waiting 50-60 days for it to be built and delivered. As he says, "that shows how well they have been conditioned by the manufacturers." Customers often identify delay with quality. In practice, says Mr Whiteman, "it takes no longer to build a BMW than it does to build an ordinary volume model." This different expectation allows BMW to benefit greatly from its flexible production lines.
Analysis by Mr Whiteman's team has shown that out of the 42 days of order-to-delivery (OTD) time for a typical volume car, actual production takes only two days, with a further five for delivery from factory to dealer. The rest is all taken up with handling paperwork, scheduling parts and determining a slot in the manufacturing process.
The team's research across Europe suggests that customers would like to take delivery of the car they order within one or two weeks. In Spain, according to Fiat's Mr Testore, if a dealer cannot promise a car within two weeks, customers tend to shrug and go elsewhere. Some manufacturers, notably Renault, are speeding up their production and ordering systems so that customers can get whatever they want in less than 14 days. If you order a Renault you can make alterations to the specification, colour and options, via a Renault dealer, up to 14 days before the scheduled delivery date.
The downside of applying BTO to an industry such as car making is that consequent peaks and troughs in demand threaten to make a mockery of mass manufacturing. As the McKinsey paper points out, most car factories do not start to make profits until they are working at 80% capacity. Fluctuating production leads to inefficiency as factories reduce output in slack periods.
For that reason, McKinsey argues that BTO is a will o' the wisp for car companies. Its consultants suggest that "virtual" BTO is the real answer. That means exploiting the Internet to find the whereabouts of a car that matches an individual customer's personal requirements somewhere within the existing distribution system.
That way, customers get what they want sooner and inventory turns over faster—but without losing the benefits of mass production. Car companies, the authors argue, have better things to do (such as ensuring that they make cars that actually appeal to consumers) than turning their manufacturing and distribution processes upside down.
In fact, car companies in Europe have been doing this virtual BTO for years. They have set up regional distribution centres at which buffer stocks are held for dealers to draw upon. Such centres are largely responsible for the rise in the 1990s in the proportion of car buyers who get the exact specifications that they want—in Britain, it has gone up from 25% to 76%.
The ICDP "3DayCar" team thinks that the trend is inexorably toward greater and speedier consumer gratification. But its research suggests that not all consumers want their cars within three days, even if that were feasible. In reality, they have widely varied demands when it comes to timing. Fleet buyers, for example, have programmed orders that stretch out into the future and can help car companies to plan their production schedules. Other customers fall somewhere in-between. The way to smooth demand, therefore, is to use price discrimination to even out the peaks and the troughs. Rather than offering heavy discounts to move stocks of cars that are piling up on the showroom forecourts, incentives could be used to bring in orders for different waiting times. This is more or less what airlines do when they sell seats on flights.
One of the biggest hurdles in the path of the three-day car is the paint shop, which is traditionally an expensive bottleneck in the car factory. Changing from one colour to another causes such a bother that car makers tend to run big batches of vehicles in one colour at a time.
The only way round this is the sort of system that is used to make little Mercedes Smart cars. They have metal frames on which are hung coloured outer panels. This allows the customer to alter the colours later if he does not like his original choice. Other companies, such as Fiat and Audi, have been using similar frame construction methods for some of their models, rather than the conventional monocoque bodies that are welded together from stamped steel panels.
The car industry may be the pioneer, but many other manufacturers are also looking for ways to reduce stocks. "American business is full of piles of inventory," says Bill Beer, the boss of the biggest part of Maytag Corporation, its appliances division, which is based in rural Iowa. "I see it as an overhead conveyer belt with lots of $100 bills hanging from it. My job is to pull down those bills."
Faced with fierce competition from companies such as General Electric and Whirlpool, Maytag has chosen to make fancy washing-machines, dishwashers and refrigerators that sell at around three times the price of mainstream products. This means that there has to be a wide range of choices, putting a premium on flexible manufacturing systems that can keep up with demand.
Mr Beer's plan to grab the $100 bills is to move as close as he can to BTO. He sees three steps along the way. At the bottom is old-fashioned "build-to-forecast"; at the top is "build only against customer order". In the middle, which is where Maytag is today, is "build-to-replenish"—ie, as soon as one product is sold, start to make another. "The idea is that the product does not go down the line until the cash register rings in a store. The real trick is to organise yourself so that your supplier and your supplier's supplier also hear that ring."
To get anywhere near such a taut, demand-pull supply chain, Mr Beer and his two manufacturing lieutenants (both from the motor industry, as it happens) have, with the help of TBM, devised a combination of lean manufacturing and quality-control techniques. The lean approach is standard: to install quality and cut waste through piles of inventory along the line. The quality-control work uses statistical tools to track the occurrence of faults and to spot even the tiniest variations in the processes. Divergences from standard procedures are what usually create faults.
Walking around the floor of Maytag's washing-machine factory in Iowa is like a lesson in modern industrial archaeology. There are three levels of sophistication on show. One part of the factory makes a traditional basic model in a traditional manner, with one long assembly-line conveyer belt and lots of offline areas in which faulty machines are taken out of the loop for repair. A second line, making more sophisticated products, has a number of smaller production cells instead of a long line, and only a few offline repair areas. Instead of a conveyer belt, machines come along on little pads that stop them at each station for a while. So far, so traditional.
But the third production area, making the most advanced Atlantis washing machines, consists of just seven cells. In these, groups of workers make whole boatloads of washers, which come off the line at the rate of one a minute. The work is less mindless than performing single repetitive tasks, and each operator can see what is going on around him. That means he can stop the line if something is wrong, or move along to help a buddy at the next station when needed. Working in such small cells means that no time is wasted by workers looking around for parts. "Everything is brought to the worker, as if he were a surgeon," says Art Learmonth, one of Mr Beer's manufacturing lieutenants. The cell arrangement is also more flexible than one long line, in that seven different variations of a washing machine can be turned out at the same time.
A similar reworking of the company's Jackson, Tennessee, dishwasher factory improved quality by 55%, cut work in progress by 60%, freed up 43,000 square feet and increased capacity by 50%. Such factories can now turn out any model at any hour of the production day, in response to feedback from the department stores that sell Maytag's products.
This "build-to-replenish" model is a key stage on the way to full-scale BTO, which Maytag has already introduced for some of its top-of-the-line refrigerators. Although it has not got there yet, the company's aim is to "sell today what we make tomorrow," says Mr Beer.
For Maytag, as for companies in the car industry and elsewhere, genuine mass customisation may still be a long way off. But the journey towards it, via the staging post of BTO, is teaching companies a lot about how to eliminate waste—of both time and materials. This may be a case where travelling hopefully matters almost as much as arriving.

* "The False Promise of Mass Customization", by Mani Agrawal, T.V. Kumaresh and Glenn A. Mercer. McKinsey Quarterly, 2001 Number 3.
---
Carmakers

Extinction of the car giants

Jun 12th 2003
From The Economist print edition


Why America's car industry is an endangered species


MOTOWN is celebrating. One hundred years ago Henry Ford set up in business, and America's love affair with the automobile began. Ford is staging a party that would not have disgraced Jay Gatsby. And why not? The American car market has been roaring, with annual vehicle sales over 16m. It could be close to 20m in a decade's time, with another 26m young Americans clamouring for their first set of wheels.
Yet the ride is not going to be smooth: it will be more like cruising in a Ford Thunderbird while ignoring a nasty rumble from its mighty V8 engine. For all the signs are that things are going badly awry in Detroit. Unless something changes, the industry could go broke—with Ford, the most troubled of the big three carmakers, leading the way (see article). The 100th birthday party could swiftly be followed by a wake.
This quintessential American industry has, admittedly, been written off before, only to bounce back. Chrysler entered the 1980s thanks to a federal bail-out; Ford narrowly escaped bankruptcy around the same time. Washington also came to the industry's aid with restrictions on Japanese imports. Even so, Chrysler nearly came to grief again in the early 1990s, before it was sold to Daimler-Benz. In 1991, the combined losses of the big three topped $7 billion. General Motors (GM) was said to be within an hour of going bust in 1992, with its bosses staring at the fax machine as they waited for a credit-rating downgrade that would have pushed the company over the edge. The downgrade never came, and GM recovered.
Over the 1990s, modernisation and imitation of Japanese techniques helped to raise Detroit's game. But the saviour of the industry was America's growing appetite for sport utility vehicles (SUVs), minivans and pick-up trucks. For years these chunky vehicles have enjoyed such success that Detroit has made most of its profits from them. Today they account for every other passenger vehicle sold in America. Competing Japanese products, where they existed, faced import tariffs. But now Toyota, Nissan and Honda have developed their own competitors in this market—and they are making them where it matters, in America's southern states, far from the citadel of union power that is Detroit. Also in the 1990s, the industry benefited from a booming stockmarket that lightened the car makers' growing pension burden as they shed workers in an effort to become more efficient. There is no sign of any such deus ex machina now.
The industry's leaders, as ever, cast the blame at a weak economy. GM's boss, Rick Wagoner, reacted to September 11th by launching discounts and interest-free financing to "keep America rolling". Almost two years later the discounts are still there, and he cannot see them stopping without a "significant" improvement in the economy. He pins hopes for the future on America's growing population and China's rising wealth, which is at last igniting demand. But neither American babies nor Chinese yuppies may come in time to rescue Detroit. Nor will a resurgent American economy.
America's car industry is in a trap. It has one-fifth more capacity than it needs. Japan's big three (Toyota, Nissan and Honda) now make a full range of models in America, and manage to sell them without deep discounts. The reaction of any normal industry to such overcapacity would be to shrink, paying attention to profits not sales. But Detroit is not normal. Its labour contracts with the unions restrict its ability to close factories quickly. Jack Smith, a former chairman of GM, used to complain that he would have to wait until his workers retired to get numbers down and make factories more efficient.
Worse, retirement now brings its own peril, as every retiree adds to the car companies' growing pension burden. GM already has a pension-fund shortfall of $19 billion, as big as its market capitalisation. Add the health-care liabilities of both employees and pensioners, plus the presence of the United Auto Workers (UAW) union, and Detroit is at a huge competitive disadvantage to its Japanese competitors, with their younger, non-unionised workforces. GM, which has two-and-a-half pensioners for every employee, reckons pensions and health-care benefits add $1,000 to the cost of each car it makes. Cuts in the workforce make the burden still greater. In Detroit's circumstances, in short, downsizing cannot deliver results.
In the past two years, the federal government has come to the rescue of farming, steel and airlines through subsidies and import barriers. It may be just a matter of time before a big carmaker considers using America's Chapter 11 bankruptcy law to shed its pension liabilities, as several steel companies and airlines have already done. When that happens the federal insurance agency picks up much of the tab. It is, however, cash-strapped already. Moreover, the examples of steel and airlines, with their repeated bankruptcies, suggest that federal bail-outs cannot solve an industry's fundamental problems.
The figures are bleak. Instead of the $2 billion operating profit it once forecast, Chrysler has given warning of a $1.2 billion operating loss in the second quarter. Ford and GM are expected soon to issue similar bleak warnings. Once the Ford birthday bash is over, Detroit will start negotiating a new three-year contract with the UAW. This will be tough, as it will include the carmakers' plans to close some factories—and they already admit that planned closures may not be enough.
Can Detroit escape the grim reaper a third time? The odds look poor. In the past seven years Detroit's share of the American market has slid from 73% to barely 63%. If SUVs, pick-ups and the like are excluded, the big three's share of the passenger-car market is already under half. The backlash against gas-guzzling vehicles can only be bad for Detroit. And the Japanese and German car companies have begun to produce models that compete head-on with such American icons as Ford's F-150 truck. If the Japanese repeat their success with smaller cars, the big three's last profitable redoubt will be overrun. The extinction of America's car giants is no longer just a bad dream: it is coming closer to reality.
---
America's car industry

Every trick in the book

Sep 27th 2001 | PONTIAC, MICHIGAN
From The Economist print edition


Going to great lengths to re-ignite sales

IT IS quiet enough on the floor of Joe Lunghamer Chevrolet to hear the rain pattering against the showroom's huge plate-glass windows. Salespeople linger, read newspapers or find little tasks to keep busy. The past two months have seen a steady decline in the number of customers walking into the suburban Detroit dealership. In the wake of the September 11th terrorist assault, that trickle has all but run dry. "The only people we're seeing right now are buying out of necessity," laments Mr Lunghamer, who opened the store 35 years ago. Everybody else, he fears, will wait to see which way events—and the American economy—go in the coming weeks. And the omens are bad: consumer confidence has just taken its steepest dive in a decade.
This year may yet go down as the third-best in American automotive history, but right now the market is in meltdown. John Casesa, an analyst with Merrill Lynch, predicts that sales in September will be down 15% on last year. Adjusting the numbers for seasonal fluctuations would yield an annualised rate of 14.8m car and truck sales, down from 17.4m a year ago. With dealers across the country in the same situation as Lunghamer Chevrolet, factory orders are fast drying up. And the car industry is taking a close look at its production plans.
The situation became much worse when the Bush administration clamped down on border crossings. Suddenly, Canadian and Mexican suppliers found themselves waiting many hours to get parts to American assembly lines. With little or no inventory, General Motors, DaimlerChrysler and Toyota found themselves sending workers home early. Hardest hit was Ford, which has lost production of up to 120,000 vehicles in September.
Easing the delays was a central topic at an unprecedented meeting between industry, labour and government leaders held at the Cadillac assembly plant in Detroit on September 19th. Unlike the airline industry, the Big Three American car makers did not ask for federal hand-outs, but they made clear that things could go from bad to horrible in a hurry.
The message was not lost on Don Evans, the commerce secretary, who declared that the car industry was "a backbone of the American economy"—car makers account for more than 5% of America's GDP and, directly or indirectly, one in seven of its jobs. With consumers fast losing their nerve and recession imminent, the car companies could set off a vicious circle of plant closures and lay-offs, triggering further falls in consumer confidence and still more plant closures.
While no corporate bosses would pledge to keep plants running, Dieter Zetsche, chief executive of DaimlerChrysler's loss-making Chrysler Group, stressed that "we clearly don't intend to overreact." But ultimately, the bosses argued, they would have to bow to market forces. "To drive production into the face of low consumer demand at some point catches up with you," noted Ford's chairman, William Clay Ford Jr.
Still, the summit was awash in patriotic fervour, and a sense that the industry has to play its part in America's new war footing. Within hours, General Motors had announced an interest-free customer-finance programme for most of its new products. Ford and Chrysler quickly fired off similar salvoes of their own.
Some dealers report that these campaigns have generated a bit more showroom traffic. But they have not been well received on Wall Street. The cost will be steep, reckons Nick Lobaccaro, chief automotive analyst at Lehman Brothers in New York. GM alone is spending an estimated $3,000 per vehicle on various incentives, which may prop up sales, but at the expense of profitability. And although the new loan programmes are due to expire at the end of October, Mr Lobaccaro points out that curtailing such giveaways has proved hard in the past.
| | |
| --- | --- |
| | The "Buy America" campaign isn't selling |
Aggravating the industry's woes until recently has been the strong dollar, which has helped Asian and European car makers, whose sales have been falling more gently than those of their American rivals. In August, Toyota came within 6,000 units of overtaking Chrysler, the number three player behind GM and Ford, in the American market. If the Japanese firm can keep up its momentum, this will be the first time that one of the Big Three has been overtaken by a foreign brand. Toyota has not been shy about using profits from a competitive exchange rate to finance its drive for a bigger market share.
With patriotism in the air, some Big Three executives have tried to revive the old "Buy American" campaign. But this is not resonating with consumers, and for good reason: it has become harder than ever to define an "American" car. Foreign car companies continue to expand their North American production base. Nissan is building a giant new pick-up plant in Mississippi. In nearby Alabama, Mercedes-Benz has announced a $600m expansion of its M-Class sport-utility line.
As if falling sales, profits and market share were not enough, the Big Three were handed bad news about their debts this week when Standard & Poor's, a credit-rating agency, put all three on credit watch. A decision to downgrade their debt would tighten the financial vice, as the car makers drain whatever cash they have left in their so-called "rainy day" funds.
---
Car industry pay

Deals in Detroit

Sep 18th 2003 | DETROIT
From The Economist print edition


Car firms and the United Auto Workers union do a deal in record time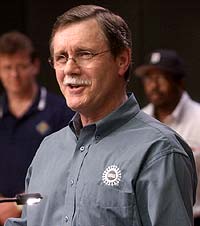 Ron has reason to smile
THE hoped for grand slam, industry-wide settlement failed to materialise. Even so, the United Auto Workers union (UAW) has rapidly struck separate, though fairly similar, contract deals with the Big Three Detroit car companies and two of the industry's largest parts suppliers. Instead of the usual protracted game of leapfrog, as one firm is picked off after another, a shared sense of crisis has led employers and the union, led by Ron Gettelfinger, to negotiate in a brisk, serious way.
With minor changes for each firm, the union has won a deal that staved off demands to slash medical and pension costs. Workers have also won "signing bonuses" and modest pay raises. Yet the employers have some reason to be satisfied. With their market share down, the Big Three, GM, Ford and Chrysler (part of DaimlerChrysler) will now be able to close six assembly plants over the next four years.
Neither side is discussing details of the agreements. That will not happen until just before workers vote on the tentative pacts later this month. But specifics have been leaking out. The $3,000 signing bonus may seem a lot, but is actually an accounting trick to reduce the portion of wage rises counting towards retirement pay. The Big Three now have more pensioners than workers. In America, GM has two-and-a-half pensioners for every current employee.
The UAW rebuffed efforts to slash pensions and benefits, despite forecasts that such costs will bankrupt the carmakers—perhaps within the decade.
The latest release of the respected annual Harbour Report showed the Big Three improving efficiency on the factory floor, but still lagging behind the best of the Japanese-owned factories in America. Nissan's line in Smyrna, Tennessee, can build a mid-sized Altima in 60% of the time needed for the similar Chrysler Concorde. Restrictions on layoffs and plant closings have hitherto blocked further efforts by the Big Three. So the factory closures in this week's deal should certainly help to narrow the productivity gap.
Some investment analysts had feared that the industry would accept a "nothing lost, nothing gained" settlement to avoid labour strife it dreads. Though the deals will not end the productivity gap nor erase the Big Three's pension problem, says John Casesa, of Merrill Lynch, "a better relationship should lead to more flexible implementation." If the deals go nowhere near far enough, then, they are certainly a lot better than nothing.
---
Imported car factories

Buying jobs can be expensive

Nov 27th 2003 | VANCE, ALABAMA
From The Economist print edition


The South still woos foreign carmakers, but it isn't always worth it

MERCEDES-BENZ'S factory in Vance, Alabama, is large and cheerful, with bright yellow chairs in the cafeteria. Its workers have other reasons to smile. DaimlerChrysler, Mercedes-Benz's parent company, recently announced a $600m expansion which could double the number of jobs in Vance to 4,000 by early 2005. So many lorries are expected to roll into the expanded factory—upwards of 1,000 a day—that the workers will need pedestrian tunnels, and nearby Interstate 20 is growing from four lanes to six.
Since 1993 Alabama has acquired three large car factories—the Mercedes-Benz one, a Honda factory in Lincoln, and a Hyundai arrival that is scheduled to open outside Montgomery in March 2005. There is also a Toyota engine factory in Huntsville.
All this has brought sorely needed jobs. Some 26,000 workers have applied for the 2,000 positions the Mercedes-Benz expansion will create. Hyundai has begun hiring 1,600 workers. There are also new jobs in the smaller companies which have sprung up to serve the carmakers' need for "just-in-time" parts. Steve Sewell, of the Economic Development Partnership of Alabama, says this helps to make up for the thousands of manufacturing jobs the state has otherwise been losing. (Alabama's love-affair with Mercedes-Benz is not just statistical: Mr Sewell married Linda Paulmeno Sewell, the factory's communications director, two years ago.)
But it comes at a price. In 1993, to beat off competition from North and South Carolina for the Mercedes factory, Alabama promised to spend $253m on tax incentives, on preparing the site and on training workers. That was nearly double the $130m South Carolina had promised to invest in a BMW plant which opened in 1995, and hugely more than Tennessee offered Nissan in 1980. A subsidy to make cars that Alabamians themselves could not afford, snorted the critics back then. Ten years on, Alabama now has 84,000 car-related jobs—a good deal, says Mr Sewell.
But this may not be true for all the states that would like to import car factories, especially as the necessary incentive grows larger and larger. Mississippi offered a $290m package for a new Nissan factory in Canton, which rolled out its first car in May; Nissan claims the plant will eventually employ 5,300 people. Georgia offered DaimlerChrysler $320m to build a new factory in Pooler, outside Savannah; the state had already bought a 1,500-acre site and set up a training programme when the firm pulled out of the deal in September.
Georgia's experience highlights the danger for southern states of expecting too much from the car industry. The South has some undoubted attractions for manufacturers—not least the relative feebleness of its trade unions—but it needs to spend a lot more on infrastructure, especially roads, if it is to be truly competitive. With factories relying more and more on getting just-in-time parts, something has to be done about the constant traffic snarls around Atlanta and Birmingham and the lousy roads of western Alabama. Of the $290m package that Mississippi offered Nissan, says Sherry Vance of Advantage Mississippi, a government agency, $210m went to infrastructure improvement. And the quality of local labour is not all it should be. Nissan has gone recruiting in 78 of Mississippi's 82 counties, but still needs more good people.
Large investments may not bring all that much benefit, Alabama's success notwithstanding. Kelly Edmiston, an economist at Georgia State University, surveyed job growth in Georgia's bigger firms between 1984 and 1998 and concluded that the expansion of existing firms produced more new jobs than the introduction of new firms. He believes that states might be better off helping local businesses to grow.
Certainly, state governors cannot assume they will keep their own jobs by importing car factories. Roy Barnes was unable to hang on as governor of Georgia despite announcing the Pooler expansion a week before the November 2002 election. Ronnie Musgrove, who as governor of Mississippi oversaw the wooing and winning of the Canton plant, lost his job earlier this month. No Alabama governor has won re-election since the Mercedes-Benz deal was signed. Money won't necessarily buy political longevity.
---
Japanese car makers in America

Twenty years down the road

Sep 12th 2002 | TOKYO AND DETROIT
From The Economist print edition


Toyota may be about to join the ranks of America's Big Three car makers

TWENTY years ago, the finishing touches were being added to the first Honda cars to roll off the production line at the first Japanese car plant in North America, in Marysville, Ohio. The Japanese manufacturer was there in response to taunts by a Ford chairman, Harold "Red" Poling, that the Japanese should "build cars where they sell them". In the protectionist mood of the times, the only way Japan's car companies could get round import restrictions was to invest directly in America. Honda, which already had motorcycle production there, was the first, followed over the next four years by Nissan and then Toyota.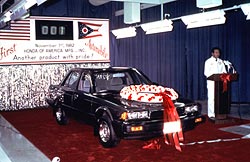 The first of millions
So successful have their cars been since then that Toyota is now poised to replace Chrysler as number three in the American car market, with over two-thirds of its sales manufactured locally. Until American manufacturers rolled out interest-free finance schemes in desperation in September 2001, Toyota had looked like overtaking Chrysler, the weakest of Detroit's Big Three. Yet, only two years earlier, Chrysler's market share had been almost 1.5 times that of Toyota.
"Toyota's market share goes up during downturns," says Yukitoshi Funo, head of the company's North American operations. Sure enough, its American car sales in the first eight months of this year rose by 4.6% over the same period in 2001, in contrast to declines at Ford and Chrysler. This rate made Toyota's president, Fujio Cho, speculate in New York last week that the company may soon "be in need of another plant" in North America, its fifth, to meet its sales target there of 2m units by 2004.
All three top Japanese manufacturers have ambitious plans to increase their global sales over the next few years, and they see America as the most promising place to grow. It is also where they make well over half their profits, their home market being flat and their European plants still loss-making. Whereas General Motors (GM) makes only about $330 in profit per car, Toyota and Nissan make around $1,000, and Honda over $1,600.
Before the Japanese set up in America, people like Mr Poling thought the secret of their efficient car-making was superhuman labourers working like crazy on the assembly lines back home. So it was a big surprise to complacent American manufacturers when Honda started making cars equally efficiently, using American workers on American soil. Of course, the Japanese were careful to steer well clear of the Detroit area, so avoiding the clutches of the United Auto Workers (UAW) union and its then resistance to modern manufacturing methods. The most efficient car factory in the world is Nissan's plant in Smyrna, Tennessee, where the UAW lost heavily in a recent vote to represent workers.
American consumers soon learned that the real secret of Japanese success was that the manufacturers concentrated on such basics as product quality, inventory control and market research. This is still working to their advantage. Durability and economy matter when times are hard (and fuel prices are rising), since penny-pinching consumers look for cars that wear well and are frugal. Improved servicing facilities have also boosted sales. A reputation for reliability brings other benefits. Second-hand Toyota Corollas and Honda Accords sell at higher prices than comparable cars made in Detroit. One study showed that GM-marqued cars rolling off its joint plant with Toyota in California were worth less after a few years than identical cars with Toyota badges.
Toyota and Honda have maintained their advantage in other ways. Unlike their American rivals, they have set tight limits on fleet sales to car-rental companies; consequently, their used-car markets are not flooded with car-hire cast-offs. They have also avoided the huge financial incentives that most American car companies now shower on their customers.
Toyota has worked hard at staying close to its dealers. High-level executives visiting from Japan often make a point of calling on dealerships to chat with salesmen. When car sales began falling in 2000, Toyota soon heard from unhappy salesmen that stocks of unsold cars were starting to build up, and it hastily reduced production. American car companies were slower to respond.
Steve Usher, a car-industry analyst at J.P. Morgan in Tokyo, says that another reason why Toyota and Honda have done well is that they have grown up with America's baby-boomers. Japanese cars entered the market in the 1960s and 1970s, when Detroit was still concentrating on building powerful engines rather than raising overall quality. As new entrants, they offered smaller, cheaper, more fuel-efficient vehicles that appealed to the (then) young. As that generation grew older and richer, the Japanese car makers followed them by moving into the luxury end of the market, with brands such as Lexus and Infiniti.
Now that they make light trucks, such as pick-ups and sport-utility vehicles, in America as well, the Japanese have increased to 20% their share of that part of the market (Detroit's last redoubt through the 1990s). Mr Usher thinks they may soon match their one-third share of the saloon-car market.
But the Japanese cannot afford to be complacent. The Indiana factory shared between two smaller Japanese car makers, Isuzu and Subaru, has stopped production because of weak sales. Even Toyota has made mistakes. The T100, initially a big flop, took off only after the company completely overhauled the truck and re-launched it as the popular Tundra; but it is once again under pressure from rivals. European companies are also increasing their North American production: Mercedes is expanding in Alabama, and Volkswagen is considering adding a United States plant to its facilities in Mexico because sales have rocketed since the new Beetle was launched five years ago.
All this means that the Japanese have little room to make mistakes. Being bigger, Toyota can afford to run more risks than Honda. But it is vulnerable to the fact that, although its cars delight and its factories astound, its management remains distinctly old-fashioned and Japanese.
---
Ford's troubles

One hell of a birthday, Bill

Jun 12th 2003 | DETROIT AND COLOGNE
From The Economist print edition

Ford celebrates its 100th anniversary, fighting for survival

IN DEARBORN, the Detroit suburb that is its home, the Ford Motor Company this weekend will host parties for several hundred thousand guests to celebrate the birth of the company on June 16th 1903. Ford's centennial bash will range from Model T rides to rock concerts. The company's founder, Henry Ford, would have been impressed to see his great-grandson, William Clay Ford, today's chairman and chief executive, help to install a pair of giant blue ovals on Ford's world headquarters.
The return of the company's traditional logo is a highly symbolic step. It had been abandoned as a corporate symbol (but not as a car badge) three years ago by Jacques Nasser, the then chief executive, who had embarked on a crusade to transform Ford into a global consumer-services company. Its return is part of Mr Ford's "back-to-basics" campaign, which is reversing the changes that Mr Nasser made during his brief tenure. The biggest of these was to turn a profit of $7.2 billion in 1999 into a loss of $5.4 billion in 2001, after which Mr Nasser was sacked.
Putting Ford back on the road to financial health will be a gigantic task, despite its bounceback into profit in the first quarter of the year. For a company that once seemed more resilient, more international in outlook and readier to embrace new manufacturing techniques than its Detroit neighbours, General Motors (GM) and Chrysler, Ford is caught in a tight spot. The Ford who now leads the firm is fighting for its survival.
Barely three years ago, Ford seemed likely to overtake GM to become the world's biggest carmaker, a title Ford lost in the 1930s. It had racked up total profits of $56 billion from 1993 onwards. But it spent too much buying Britain's Land Rover and Sweden's Volvo, as well as the Kwik-Fit tyre-repair chain and other businesses. On Mr Nasser's watch, the company also had to stump up for the huge cost of replacing dangerous Firestone tyres fitted to Ford Explorers. Important product launches were botched and quality control was neglected, to the point that warranty claims soared almost out of control.
Since Mr Nasser left, Ford has sold many of its acquisitions, but the core business of making cars is far from being fixed. Despite spending a fortune on rebates and other incentives to lure buyers, Ford's market share has fallen in America. In Europe it has shrunk from 12% to barely 8%.
Meanwhile, Ford's underfunded pension liabilities and retirees' health-care obligations have become a financial nightmare. Some on Wall Street, including Saul Rubin, an analyst at UBS, have given warning that Ford might not last the decade, never mind another century.
The last time Ford was heavily in loss was when the market slumped in the early 1990s. This time it coincides with four years of record vehicle sales in America. Even though the market weakened this spring, the number of vehicles sold in America could still pass 16m for 2003. Yet Detroit is in the dumps. Alarm bells rang last week when DaimlerChrysler issued a profit warning for its Chrysler arm, which expects to lose $1.2 billion this quarter, dashing hopes of a profit of $2 billion for the year. Analysts are standing by for gloomy news from Ford and GM—even though Ford, when it last reported, stuck to its forecast of a small profit this year.
This is no market for weaklings. Overcapacity is more than 20% in America, and growing. Hundreds of thousands of cars are piling up unsold, even as Japanese manufacturers build more efficient new plants. Last month, Nissan opened a factory in Mississippi able to make 400,000 vehicles a year—including the sort of pick-up trucks and sport utility vehicles (SUVs) from which Ford, GM and Chrysler have made most of their recent profits. Germany's big carmakers are also driving hard into the SUV market. Every other car sold in America is now a pick-up, SUV or similar. Toyota and Honda are expanding their North American production as they steal market share from Detroit (see table). Toyota is on the way to replacing Chrysler as one of America's big three carmakers.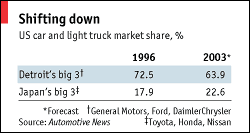 The capacity glut is forcing manufacturers to fight for every sale. This is compounded by a weak American economy and the fact that, after a decade of strong sales, America is awash with more cars than ever before. The solution might seem simple: close plants. But to shut down the five plants first targeted by Ford in its January 2002 recovery plan, the company had to win approval from the Canadian Auto Workers Union and still has to clinch a deal with America's United Auto Workers (UAW) union. So, 18 months after declaring much manufacturing capacity surplus to requirements, Ford is still saddled with it. This delay worries analysts, who contrast it with the quick recovery that Carlos Ghosn was able to effect when he took the reins at beleaguered Nissan.
To prevent cars piling up on sales forecourts, Ford has had to increase discounts and other sales incentives by over half this spring. The result is that it costs Ford $3,208 to sell every passenger car. Even its newest and most popular vehicles are rolling out with "cash on the hood". That spells big trouble for Ford, as it has just made what Phil Martens, the company's development director, calls "the most important product launch for us in 20 years". This is the completely redesigned F-150 pick-up, the mainstay of Ford profits and the best-selling vehicle in America (900,000 or so in a good year). The company hopes to sell over 1m in 2004. To do it, Ford has produced five versions of the new F-150, aimed at different market niches.
Jim Padilla, who runs Ford's North American operations, concedes that the company has underestimated the pressures on pricing. Since the mid-1990s, sticker prices have fallen by a real 1% a year. Yet Ford has spent the equivalent of about $1,800 in extra costs to produce each new pick-up. Frantic cost-cutting efforts has trimmed that to an average of $711 as the first new F-150 rolled off the production line this week. But that is still a painful dent in Ford's most lucrative product. Ford finds itself doing the equivalent of trying to drive up a down escalator: its new vehicles tend to be fancier and so more expensive, but car buyers expect and get lower prices.
Ford is hoping to fight back using techniques that it has learnt from the Japanese and already applied in Europe. Sir Nick Scheele and David Thursfield, who slashed surplus capacity at Ford Europe, have been drafted in from the European headquarters in Cologne to take over day-to-day operations and purchasing. But there are repeated rumours of friction between the tough Mr Thursfield and the equally forceful Mr Padilla.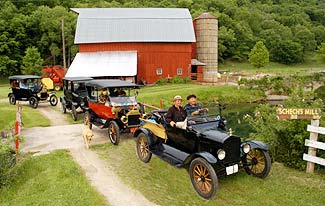 They don't make 'em like they used to
After closing surplus plants, such as the assembly line at Dagenham in Britain, Ford Europe is refitting its remaining four big European factories. Only the walls and roof of its giant Cologne plant remain the same. Inside is now a squeaky-clean, world-class factory, as productive as the best Japanese plants in Europe, and employing factory managers who learned their job at Toyota. Like Japanese car factories, the Ford Europe plants can make any model, so production of particular vehicles can be raised or lowered according to which model is selling the fastest. But what was done quickly in Europe is yet to materialise in America, unless the powerful UAW agrees to changes.
Another Japanese trick that Ford has learnt is to make many different models using the same "platform"—the basic chassis and other under-the-skin parts. Ford's new medium-sized saloon to replace its ageing Taurus model will share the same platform with a new Mazda, launched last year by Ford's Japanese partner. Eventually, Ford plans to produce ten different vehicles from the common platform. On paper, at least, it could save billions from lower product-development costs and rewards from economies of scale.
One of the biggest weaknesses Ford has faced has been in product development, which had been unnaturally divided into autonomous departments, each focusing on a different segment of the market. The result, laments Jim Hall, a Detroit car industry consultant, was that Ford kept reinventing the wheel, failing to share technical advances, and missing out on economies of scale. Some new models had to be curtailed simply because their costs spiralled too high. That, in turn, creates another problem: finding enough new cars every year to grab buyers' attention. Ford's dramatic slide in the European market, for instance, came as the average age of its models rose to more than five years; it is now under half that, according to Martin Leach, chief operating officer of Ford Europe.
Ford's problems affect more than the cars with a blue oval badge. Under Mr Nasser, the company shifted a lot of attention to its European luxury brands, such as Land Rover, Aston Martin, Jaguar and Volvo. This was to the detriment of its Mercury marque, which in the months before Mr Nasser was ousted had been the subject of an internal study to see how it could be axed. Now Ford is trying to come up with new products to provide a clearer image for the brand. Grand designs for Ford's Lincoln brand, also dreamed up under Mr Nasser, have been scrapped. Sir Nick dismisses them as "not supportable". So Lincoln is struggling to find a workable alternative that focuses solely on the American market, rather than the global launch planned by the previous regime.
Despite the gloom, some analysts believe the company's situation is improving. So far this year, Ford has outperformed GM. Vehicle quality is improving, cutting warranty costs. But the F-150 launch will be the big test of whether Ford has really got on top of its repeated start-up problems. By 2005, the carmaker promises to cut $9 billion from its costs; this week the company said it was making faster-than-expected progress at the first three plants converted to flexible manufacturing.
A long-standing industry maxim holds that you cannot cost-cut your way to prosperity—though it certainly would help. The real measure of success is whether Ford can make hit models. That will, in part, be determined by the reception given to the 65 new cars, SUVs and other vehicles that Ford plans to roll out over the next five years in America—along with an almost equal number from its luxury European brands. Even though Ford is more than halfway through a five-year plan to launch 45 new cars in Europe, it has not seen much improvement in sales.
The European car market is glutted, and likely to shrink by 10% this year. According to Gary Lapidus, an analyst at Goldman Sachs, Ford was still losing $621 per vehicle in Europe in the first quarter of this year. So the medicine developed in Europe, and on which so much hope in America is pinned, has still to show that it really works.
As if Ford doesn't have enough problems, it is paying a penalty for efficiency gains made over the past two decades. The firm is saddled with more than one retired person for each active worker. The situation is similar at Chrysler, and worse at GM, which has more than two pensioners per employee. Analysts recall GM's brush with bankruptcy in 1992, when a further downgrading of its bonds would have caused unbearable financing costs and forced it to seek protection from creditors. Ford's bonds plunged last autumn; they have recovered but are hovering just above junk-bond status.
Some in the industry cannot envisage the company that epitomises the automobile going bust. "Ford is too disciplined a company to go down," says the chief executive of a rival carmaker. But nobody thought such household names as Pan Am or ITT could vanish. Ford could yet hurtle over the edge.
---
OBITUARY

Obituary in brief

Takashi Ishihara

Sep 19th 2003
From Economist.com
Takashi Ishihara, Japan's thrusting carmaker, died on December 31st, aged 91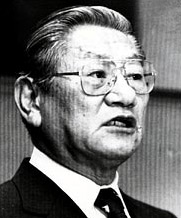 IN THE 1970s when the price of oil rose alarmingly, Takashi Ishihara, of Nissan, a Japanese car company, sought to persuade Americans that they needed a smaller car. It was not an easy message to get across. "Small" was not an enticing word for Americans who loved their spacious wagons with their big lazy engines. And the second world war was still fresh enough in the minds of many Americans to put them off anything Japanese. But those that did put aside their prejudices and bought a Sunny were impressed. It looked good, never seemed to go wrong and went for ever on a cupful of petrol. The word spread and suddenly the Sunny seemed to be seen everywhere. This was the extraordinary moment when Japan started to push ahead to become eventually the world's biggest producer of cars and utility vehicles. Mr Ishihara, who gave Japan that push, said he was lucky with his timing. Perhaps so, but he was a man who made his own luck.
In the years after the war, when a beaten Japan was struggling to recover, Mr Ishihara was Nissan's accountant, which meant that he had to hold off the firm's creditors as long as possible. A story is told that the clerk he chose to write the cheques tended to be inaccurate, so the bank would query them, slowing up payment. But Japan's domestic market for cars was small. Mr Ishihara realised that if Nissan were to survive it would have to sell overseas, particularly in America. His colleagues were pessimistic about his prospects, but he persisted and in 1960 was put in charge of American sales. Reluctantly, the Nissan board agreed to invest $500,000 (equivalent to $3.1m now) in the American operation after Mr Ishihara threatened to resign if it didn't. At first, sales were steady rather than spectacular. Mr Ishihara himself was a success with Americans. He was strongly-built and had played rugby as a youth. The carmakers of Detroit found him an agreeable companion; they liked his spirit but what Japan really needed, they confided, was a big car.
The success of the Sunny (first sold under the label of Datsun, so as not to sound Japanese) was matched by the products of other Japanese firms, notably Toyota and Honda. They were happy to let Mr Ishihara be the industry's spokesman, a role he played with enthusiasm, endorsing free competition and attacking the Japanese government's policy of protectionism. In 1977 Mr Ishihara became president of Nissan. He was then 65 but had another 15 years of active life in the company during which it established car plants overseas, notably in Britain, chosen because it gave Nissan an entry to mainland Europe, and in the United States. He was a fan of automation. He said it was quick to learn and reckoned it made a better car than one that relied solely on human labour. In old age he said his regret was that he had not made other wonderful things. If he had his time over again he would build rockets.
---
a car place - General Motors history, info, and car reviews
Investment Records -- Car IndustryCar Industry. Reborn Recently. Although Hungary is understandably not registered on the list of big car ... General Motors Opel established its first car assembly, engines and spare parts ...

General Motors Information at Business.com
Hoover's: General Motors Company Research

DrivingPoint.com - Search Results cadillac cien concept general motors
Guardian Unlimited | Special reports | Special report: Britain's car industry
EV World: Electric Car Industry News
Henry Ford and the Triumph of the Auto Industry
The Car Industry: The Secrets of the Production Line (PDF)
Report 3: The Australian Automotive Industry (PDF)
---