Detroit News - Edgier designs help Caddy pull out of the doldrums - Overview of Cadillac's renewal.
Cadillac on Right Track ( Read the quotes here )
Automotive Industries - Cadillac is Back - Automotive Industries preview of the SRX and XLR
The Cadillac Story
Established in 1899 as the Detroit Automobile Company, Cadillac is the oldest automobile manufacturer to originate in Detroit, Michigan. The company is named after the French explorer who founded the city. General Motors purchased Cadillac in 1909 and that same year Cadillac produced almost 6,000 vehicles. Over six million vehicles had been built by the end of the 1970s, and currently Cadillac markets its models through approximately 1,500 dealerships.
Cadillac

---
Cadillac Product Range
Passenger Cars
CTS
Cadillac's sport sedan
$30,490 - $49,300
Luxury Cars
DeVille
Cadillac's luxury 4-door sedan
$45,100 - $50,250
Seville
Cadillac's luxury performance sedan
$45,975
XLR
Cadillac's high-performance luxury roadster
$75,385
Sport Utilities
SRX
Cadillac's midsize crossover SUV
$37,995 - $46,595
Escalade
Cadillac's luxury full-size SUV
$51,980 - $57,280
Pickup Trucks
Escalade EXT
Cadillac's new luxury pickup truck
$52,160
---
Segment Participant Comparison
Types marked ( x ) are near luxury segment.
---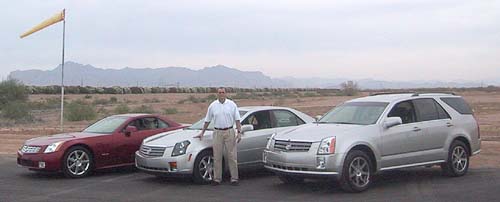 ---
Car of the Century - Official Harley Earl Website
Open Directory - Recreation: Autos: Cadillac