---
---
India France Egypt Italy Photography
---
Hotels and Lodging
All you need to know about traveling to any part of the world...
Cruises
Short or extended cruises through sea in luxurious cruiseliners. There's something here for everyone...
Travelers Resources
A must-have list for serious travelers to access anywhere in the world...

Air Travel
Homepages of the major airlines...

Adventure Travel
Exotic and extraordinary travel sites...
Destination Guides
Dream destinations all over the world. See them virtually before experiencing them in person
---
We'll start with Australians Abroad, one of the more common nationalities to find outside their home country. There are lots of interesting features to read from Aussies living all over the world. In one article from Hong Kong, the writer muses on whether she is becoming more Asian than Australian. She's learnt how to wrestle a taxi away from little old ladies, that using the term "my husband said" works to get things done and that shop assistants don't mean anything when they say "you are too fat." One of the most valuable parts of websites like these are the portions where others share how they battled through a particular problems, so you can learn from their efforts and frustration. This website deals with Dual Citizenship, banking and how do deal with homesickness.
Expat Exchange is an online community of english speaking expatriates, it's also a bit of a business to business portal aimed at international employers, who have their staff working all over the world. Their database of contacts is worth having a flick through. They also have a volunteer network, only in about 8 countries so far, you choose the country you're interested in and it will tell you who these people are. The network is not too widespread yet, but I'm sure they'd appreciate any additions if you're itching to help other people overcome settling in a new land. Tell them we sent you.

This site for Indonesia has a small forum where you can ask your own questions about Indonesian life, but the main articles will probably quell some of that curiosity. Business tips feature highly, with links to the expatriate business association and other groups who can help you understand and avoid any pitfalls to making business life a success. Most interesting are the practical tips, including a whole essay about the intricacies of hailing a taxi. Some of them leak during the heavy rains and you have to make sure you're not about to sit down in soaking seats.

---
Finally, an online travel resource just for women.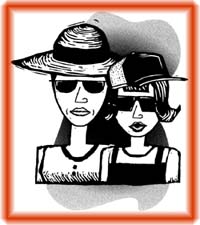 More interesting is the site that has gone up in conjunction with it called HERmail.net which is a directory of international traveling women.
Christmas.com has a section called World View which can tell you how Christmas is celebrated in Suriname or the Middle East and other parts of the world. It may help to know how Christmas is celebrated where you are living so you can be a gracious and knowledgeable host to local people you invite to join you and your family.
For the cooks in the family, I found two amazing sites for holiday recipes. The first gives you everything you may need for the meal (except of course for the ingredients! That was always the unique expat cooking challenge!) But check out Christmas Recipes.com and if you are only planning on baking, naturally click on Christmas-Cookies.com.