PIRELLI

In all parts of the world, tyres and cables are essential to national economies in the areas of transportation of people and goods, and transmission of energy and information. Pirelli's business is centred on these key markets in which we are among the world leaders and innovators.
For more than a century we have grown as a truly multinational corporation, deeply rooted in local markets throughout the world and building upon our two core product sectors.
Our technological and research capacity in terms of professional skills and resources will continue to be a great source of our strength. This, coupled with close involvement with customer requirements, enables us to manufacture and market good value, high quality products and to operate successfully from our bases around the world. A high priority is extended to continuous improvement in the environmental impact of our processes and products.
Our management objective is the achievement of an effective balance between personal accountability and team work, central guidance and local operating responsibility.
After the demanding 1992-93 restructuring programme of the Group, 1994 marked the beginning of the international relaunching of cables and tyres, a stage characterised by the development of new tecnologies, the introduction of new products and the opening up of new markets.
This framework will enable us to finance our continued growth through adequate profits, in the interest of our shareholders, customers and employees.
---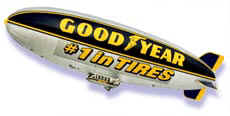 Inside Goodyear are its people. People united by a Mission Into the 21st Century. Examine the achievements and personalilties of the executives at Goodyear in their Executive Bios and review the Speeches Goodyear associates have delivered.
Every large company has a framework and Goodyear's is built of Strategic Business Units and Worldwide Facilities.
---
Toyo Tires
Technology

Each day as you drive on straight roads, bumpy roads, around corners, at high speeds and low speeds, your tires are constantly responding to the forces of the road. And more importantly, they are channeling acceleration, braking, and steering power to the road.

Tire Dynamics


The part of the tire that stays in contact with the road is known as the contact patch. As your vehicle moves, the contact area between the tire and the road surface changes constantly which, in turn, affects the tire's performance from moment to moment. Until Toyo engineers developed a revolutionary new design approach, there was no way to simulate and measure these changes.

New Super-Computer Analysis


Using a proprietary tire-analysis program, Toyo engineers can simulate the contact patch changes in variable driving conditions for hundreds of tire designs.

Our engineers can examine internal stress and road contact patterns and test new design theories, all without actually building the tire. Once the prototype is built, it is torture-tested at Toyo test facilities.

Design Goal


The larger the patch, the better the traction, steering response, and overall performance. However, as a vehicle moves, the contact area decreases. In designing ultra high-performance tires, the goal then becomes to minimize this reduction in the contact surface and control the changes, so that when some reduction does occur, it occurs smoothly and predictably.

Maintaining The Maximum Tire/Road Contact Area
The conventional method used to minimize changes in the tire contact area has been to increase tread rigidity. The tread profile becomes lower and the contact patch becomes more stable. But, as the contact area is stabilized, the ride quality suffers. In fact, until recently, it was believed that optimum performance and a comfortable ride were incompatible. Toyo refused that assumption. A solution had to exist and Toyo found it.

Dynamic Stability Optimized Contact II Theory
In searching for new ways to maintain the contact area, Toyo engineers focused first on the belt tension in the tread. Belt tension has a major influence on both the contact surface and the tire characteristics that control ride quality.

Super-computer simulations showed that contact stability is greatly improved during cornering by increasing the tension in the center of the tread. Yet increasing tension in this area does not have a negative effect on ride quality. Indeed, performance and a smooth ride were compatible.

Toyo engineers then identified a precise balance of shoulder tension which improved performance and maintained a comfortable ride.

Using Dynamic Stability Optimized Contact II Theory, Toyo engineers were able to develop the first tires that successfully balanced a smooth ride with high-performance handling and stability in a low profile radial tire.

Toyo further improved ultra high-performance tires with Spiral Winding and a Rim Flange Protector. Our research and development efforts have pioneered advancements in large truck tires. Using High Elongation Steel Cord and Belt Defender Technology allows Toyo to extend its casing warranty longer than any other manufacturer.
---
---
---
---
TIRE RACK

---

Bridgestone/Firestone, Inc. is an international manufacturer and marketer with production, distribution and sales facilities throughout the Western Hemisphere.
Today, Bridgestone/Firestone sells tires for passenger, light truck, truck, bus, earthmoving, agricultural, motorcycle and kart applications through more than 12,000 outlets, including independent dealers, mass merchandisers, warehouse clubs, and our company-owned stores.
While we're known for our tires, Bridgestone/Firestone also manufactures and markets a variety of other products including building and industrial products, air springs, fibers and textiles and synthetic rubber and latex.
As we head into the next millennium, Bridgestone/Firestone will remain focused on technology to keep us at the top of our industry with innovative, quality products.
Welcome to the world of Bridgestone/Firestone!
Corporate Information | Tires | Racing | Retail Operations | Other Products | International Affiliates | News & Information